Fitness & Recreation
In addition to a great night's sleep, when working in a workout sounds like an awesome idea, simply head to Cedarbrook's Fitness Center.
Open 24 hours and located on the first floor of the Spruce building, it features stunning floor-to-ceiling windows boasting awesome views of the lush, pristine grounds. There, take advantage of treadmills, stationary bikes, elliptical machines, weight machines, free weights, benches, mats, balance balls, lockers and showers.
If power-walking or a relaxing stroll is your thing, Cedarbrook's walking paths are just for you! Or stop by the Reception Desk to reserve yard and lawn equipment such as: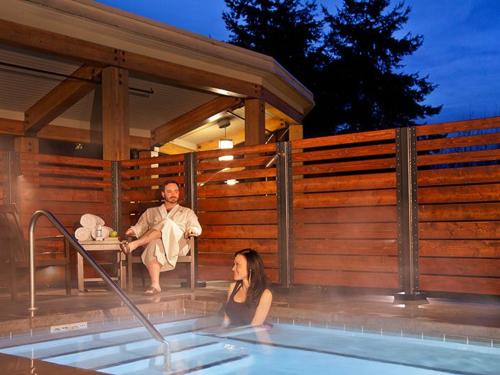 Badminton/volleyball set
Bean bag toss
Bocce balls
Croquet
Bowling
Kids' ring toss
Ladder ball
Rubber horseshoe set
Sky darts
All energizing selections are complimentary and can be reserved at the Reception Desk.